From the day online casinos have been introduced, offline casinos have lost their value somehow. The visitors of casinos have almost halved I guess! This is because online casinos are reachable to everyone. No matter where you are, at what time you are playing, they are always available. You don't need to bother yourself and visit Las Vegas, leaving your family behind, just for a one-night fun. You can enjoy with your family and friends and have a blast partying with your friends and win a big real cash in an online casino. However, one thing which I must say is that you can't get in the online casinos is the atmosphere, the vibes and the ambience of offline casinos. Still, you can enjoy everything at online casinos if you have the best app having amazing graphics similar to a real casino.
The Reel Stakes Casino is one of the best online casino platforms where you can play blackjack and poker games.  The app has been developed by Game Knight. It is compatible with the iPhone, iPod touch and iPad and requires iOS 12.0 or any later versions of the OS. This app has all the casino games in stock that you can count. Whether it is Blackjack or a five-card poker game, you can play them under one roof and make sure that you  get the feeling of a real/live casino.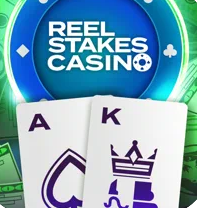 As this is a real money game, you must be looking for some good promotions and offers. So you will be happy to hear that there are a lot of cash prizes and you can earn shots at bonus slots also. You can spin the wheel to win poker and blackjack. The Reel Stakes Casino is easy-to-learn and fun to play. You can quickly go from beginner to winner as you master your blackjack and poker skills. You can also play for free or wager and win real money. You can unlock the money wheel for chances to spin to win real cash. In every spin there is a winner, so sharpen your blackjack or poker skills and improve your strategy.
When you're playing such an amazing game, it's interface matters a lot. The developers have managed to keep the style and luxury alive with its simplicity. There is grandness in the amount of money that you can win here in a single hour. There are ironical elements that blend very well with each other. The graphics of the app are great, especially the level of details and sharpness. The videos are fully HD and these features turn a mobile screen into a grand casino.
So you can imagine how worthy this app is for you when there are a lot of features.
You must be 21 years or more to wager and play for real money on this platform.
So go and check it out today in the iOS Store. It's available for free!
Pros: intuitive UI; sharp and stylish graphics; real money casino games; poker and blackjack; live casino games; fun and entertaining; free.
Cons: none.
Worth Having App – Download the App