Do you love Arcade games and shooting? Well! Who doesn't? Almost all of us love to play shooting games as they are more fun and interesting. How about shooting the enemies from your own jetpack? Sounds more awesome, Right? Yes, given by the team of BB Electronics LLC, here comes a new brilliant app named Marble Jetpack.
What is the app about?
The app is about using the marble ball to collect the stars and complete the level. Your objective is to defeat all the enemies who come on your path, escape from their attack and move on. The thrilling part of the game is that you must do all of this within the specified time without losing lives.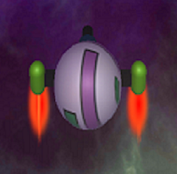 Working of Marble Jetpack:
With the marble given in the app, you must move around the hurdles. Level 1 of the app is where you have to use the marble and practice collecting stars. It is like the training you could take before combating with the tougher levels. The app has an inventory section under which you could change the skin of your marble as you like. I enjoyed changing the look of my fighting machine and it was enjoyable. The game clearly notifies all the lives you have lost or collected on your way, the number of enemies taken down and also the time left for you to finish the level. What I like most about the game is the jetpack that flies. I love to shoot all the enemy jetpacks as I surf through the air. The game takes you to completely different worlds that you could usually see in 3D movies.
Special Features of Marble Jetpack
The most unique thing that I personally felt so good about the app is the pause button that helps you to take a break. There are checkpoints in Marble Jetpack that help you gain more time and also save your position in the present level of the game. Another interesting feature under the 'Buy/Earn Store' is the options to get a life by watching ads or making purchases. The sound effects of the app are so good and it keeps you going with a sporting spirit. The graphics are neat and clean with good color combinations.
Marble Jetpack comes free for download with some in-app purchases. The app is compatible with Android 6.0 or later versions. This is very enjoyable and addictive and can be played by all in the family.
Worth Having app – Download the App