AI Writing Assistant Software enables users to create unique, high-quality content in various styles and tones. It uses machine learning and natural language processing (NLP) technologies to make such content. It offers suggestions based on previously entered material and performs writing-related tasks such as spell check, grammar check, text predictions, and plagiarism detection.
Furthermore, the content scope ranged from long-form to short-form, including blogs, landing pages, product descriptions, website headlines, and more. Copywriters, content marketers, communication leaders, customer service agents, authors, journalists, bloggers, and other wordsmiths are typical software users.
Grammarly Business

Grammarly Business enables over 50,000 teams globally to communicate seamlessly and effectively at every customer and internal touch point. Grammarly's trusted, AI-powered recommendations significantly expand word choice, tone, sentence clarity, and grammatical errors.
Copy.ai                                                            

It's fantastic that it has several suggestions for you. You have a choice, or you can put together your own combination of the ones you like. Copy.ai especially helps in generating SEO-friendly and unique content from previously generated content.

It is AI writing and image generation platform to leverage everyone globally to generate content 10X faster. It is equivalent to Canva for writing, with tools that make it easier to create, edit, and publish SEO-optimized articles, blog posts, ads, landing pages, eCommerce product descriptions, social media posts, and a variety of other sorts of content.
Writer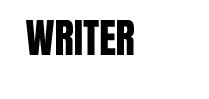 The writer is one of the best AI writing tools for writing long emails and documents quickly and easily. The snippets you can use while writing emails are the best feature of this product. It's speedy and saves time from writing the same thing again. It offers a style guide that assists the organization in maintaining the same content style by employees for formal communication.
WordAi

WordAi generates high-quality content rewriting by utilizing advanced machine learning. At your fingertips, you'll have the ability to restructure entire sentences and paragraphs completely.
Jasper
Jasper AI is a robotic writer driven by cutting-edge artificial intelligence technology that can curate content 5x faster than the average human copywriter.
With Jasper AI, you get 100% original written content with no plagiarism flags. You will also receive pre-written templates on specific topics. Jasper AI creates SEO-friendly content, which implies that all of the content you receive from Jasper AI is optimized and fully prepared to attract sales and pitches.
Utilizing Jasper AI, you can prioritize at the top of Google search results, attract thousands of frequent users, and build loyal website traffic that you can later monetize.
TextWizard.io

Text wizard has a robust, simple feature set and a forward-thinking strategy for generative AI. This software is a wizard that will produce a copy for you instantly.