How many ways are there for sending a message to someone? I think there are a huge number of ways, such as text messages, emails, fax, letters, etc. and there are so many apps conveying your messages. But, have you ever imagined sending a message to the world in a bottle? Seems very awkward and strange? Yeah, it may be! When somebody hears it for the first time will be very shocked about how's it possible to send a message through a bottle?
Seriously, it's not a joke! It's a unique way to convey a message via a bottle using the Bottled app.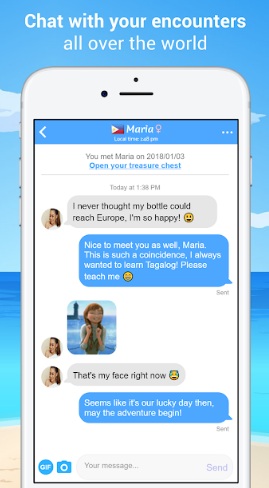 Bottled has been developed by Honi, Inc. and is available for free on the App Store and Google Play. Whether you're looking for a friend, a pen pal, or simply an intellectual connection, you can use this app. You can learn new languages and discover new cultures by making new friends using this app.
To begin with Bottled, you can write a small message or add an optional pic or GIF and then send it by dropping the bottle into the sea. You can use the compass to direct the message to a particular country. You can always track your message via the map and see its progress across the world. To enhance the odds, you can send the message with the Octopus who will deliver it to eight people instead of only one. There are many other fun options which are built into the Bottled app. You can make the game more exciting by earning Gold coins by simply interacting with people, or by testing world knowledge with the Cheeky Captain.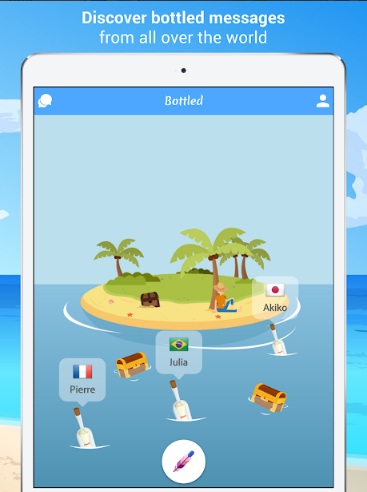 Bottled is a new way to meet people and connect with them very easily. For example, your message will be sent to anyone, anywhere in the world. But, don't panic your message will be received by only one lucky individual. The person who will receive your message can only decide whether to keep it or not, depending on the content of your bottled message. Once your bottled message is kept, you'll be able to chat with each other. On the other hand, if your message gets released, your bottle will float back into the sea and it will be passed on to the other random stranger!
With Bottled, you can send a letter to anyone, anywhere in the world, chat with other people and know each other. Moreover, you can keep your favourite bottled messages and chat messages within your personal treasure chest. The interesting thing about this app is that the messages are sent in real time.
In a nutshell, I would say that Bottled is a must-have app for the people who are seeking new friends and want to know about different cultures. Today, the app has gained popularity in just a few months and attracted around 1,00,000 users and they're really enjoying the app! So why not you! Try it at least once!
Pros: great app to meet new people worldwide; a new way to send messages; unique stuff; fun in-app options; exciting features; free.
Cons: none.
Appslisto - App Review
App Concept
App Feature Set
App User Experience
App Reuse Value
97
Useful
Bottled is a new way to meet people and connect with them very easily. For example, your message will be sent to anyone, anywhere in the world.

User Rating:

4.85 ( 1 votes)

97