Casual games give us the joy of playing for hours together on the mobile. These games are successful and popular among gamers of all sorts. They are made to be played on the go as a laid back or competitive game. Most of the games are free and they offer purchases and play some ads. There may be a lot of games for Android but only a few will serve as a great pastime.
Mask On / Mask Off is one such enthralling deceptive game that allows users to mask the faces without masks. The users must aim to achieve this as fast as possible to score more points. The faces appear and disappear and they try to occupy the whole board without allowing you to complete your target.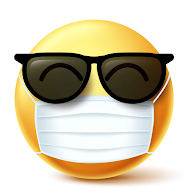 Mask On / Mask Off come with so many stages at each level with different size, faces and targets. The scores you have obtained, the target and the time you need are all displayed on the screen. The app has access to full network and views the users' network connections. Users can purchase powers and pills by using the points they have obtained. They will be able to purchase power pills, vaccines, nurses 1 & 2. If you are too slow to reach the target, you will lose 250 points.
The app goes by the logic of the 'game and give'. They aim to donate a sum to the first responders and needy local food pantries. The players will be rewarded with a bonus point of 200 when they watch ads after each round. Watching ads is a choice that is made by the users when they press the 'WATCH AD' button. The revenue generated by the user's ads is given to the donation. Kudos to the team for coming up with this awesome idea. This creative app is neatly designed and is smooth to operate.
Mask On / Mask Off is given by a company named OnceRed LLC. The developer can be contacted on info@oncered.com to get your doubts or queries answered. Updated on November 18, 2020, the app is free for download and is compatible with Android 4.0.3 or later versions.
Mask On / Mask Off is a great time killer that lets you pass the time without any regrets. It is one great app to keep on your mobile for some little gaming during any time of your day.
Worth Having App – Download the App