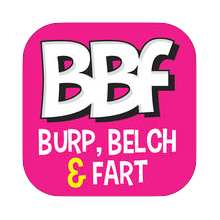 What do you know about hilarious games? Are those games full of fun and makes you laugh or keeps you hooked for so many hours? It may be difficult for you to decide. Right? Because you always look a game for enjoyment purposes only or to learn something new! But, anyhow, you may have played those games that are worth entertaining and full of enjoyment, but not like the one which I'm going to introduce you today! It's the latest sensational game built especially for kids of all ages to build up their memory skills. Its one and only " BBF- BURP, BELCH AND FART".
BBF has been developed by Pure Fusion Media, Inc. and is released on August 21, 2017. The app is compatible with iPhone, iPad and iPod touch and requires iOS 8.0 or later version of the Operating System.
Now what BBF is all about? Many of you will be wondering about the name of the game which may sound 'weird' to you. But actually the game is very interesting and enjoyable! You don't need to login for playing this game. Just download it from the iTunes store and start the endless fun!
Burp, Belch and Fart is the new memory game where you've to simply tap on the activated buttons placed in a sequence to animate the characters on the screen and just follow them. By clicking the buttons the characters will perform the action which is a humorous body function such as burping, sneezing, snorting, belching and farting. Isn't it a good old childish fun!
There are 3 characters like Backyard Bob, Selfie Sasha and Dejon, etc. who adds fun to the game. There are unlimited levels to play and each level becomes more challenging as you proceed further and move through the levels. The sequences become longer and longer and thereby difficult to remember. But be sure to click through a sequence quickly to earn bonus points and funny phrases. That's why it's a memory game which not only build up your memory power but teach you how to concentrate on the things around you.
The game is easy to play with simple controls and the sound effects produced are totally real. The characters and the design of the game is really very awesome.
Overall, BBF is an addictive memory game where you have to perform so many actions which are very entertaining and funny that you can't stop yourself from laughing. So train your brain one fart at a time and improve your memory with lots of fun! But remember to keep the volume down in public to prevent yourself from an awkward situation!
Get this app on your iPhone and play the most entertaining game of the year! The app is available for free on the iTunes Store.
Pros: most funniest game; addicting; perform funny actions like burp, belch and fart; easy to play; amazing characters; endless fun; easy yet challenging levels; unique method to remember things; free.
 Cons: none.
AppsListo - App Review
Game Concept
Game Feature Set
Game Fx & Visuals
Game Replay Value
85
Memory
Burp, Belch and Fart is the new memory game where you've to simply tap on the activated buttons placed in a sequence to animate the characters on the screen and just follow them.

User Rating:

4.9 ( 1 votes)

85