People can find a variety of E-Commerce Affiliate tracking software in various genres, and nothing beats the rewarding satisfaction people feel when they finally figure out the right solution, even if it takes some time.
How Does Affiliate Tracking Software Work?
Affiliate tracking software allows you to manage your affiliate partners' networks and track their commissions. These platforms include all the features required to track your affiliates' performance, calculate commissions, reduce affiliate marketing fraud, and make commission payments on time.
Such tools also provide comprehensive analytics for tracking industry trends and gaining valuable insights. This is why many people have started utilizing Trackdesk eCommerce Affiliate Tracking Software.
You can concentrate on building your business rather than dealing with a learning curve when you use Trackdesk eCommerce Affiliate Tracking Software. Also, you can adeptly take good advantage of the platform's ever-expanding features to improve your workflow and gain new insights. Trackdesk was created to be a simple and productive addition to your workflow. The platform's current live features are listed below.
Getting Back on Track with Trackdesk
Possible to manage an Infinite Number of Affiliates
You have location-specific offers and payments
Experience the Real-time report
You can form Adaptable Commission Groups
It tracks up to 10 million tracking requests per month.
You are strongly advised to take full advantage of Trackdesk's 14-day free trial. Early adopters can also expect new monthly features and tools to help with reporting and affiliate management. Also, making profitable alliances can help you expand your e-commerce business. Trackdesk analytics can thus be used to improve reporting and gain insightful insights.
Major Benefits of Trackdesk
10 million tracking requests per month
Direct Connection & Tracking S2S Events
Management of Creative Assets
Reporting in Real-Time & Geographical targeting
Selecting a Device & Campaign Access Control
Unlimited affiliates & Observing One-of-a-Kind Events
Advertiser/SubID Variables
Post back and Pixel & Management & CRM Partner
Personalized Partner Onboarding
An infinite number of team members
Know About Your Trackdesk Factors
Affiliate Management – You can keep track of your partners using the Trackdesk dashboard. Analyze their performance in real-time across marketing channels.
Individualized Commissions – There is the option of tier-based commissions.
Promotional Codes – Offer discount codes to your partners in exchange for excellent support acquisition.
Analytical Skills – You can segment your data in any way you want. To simplify your workflow, customize reports that are important to you.
A Single Dashboard – Your trackdesk dashboard offers you an instant snapshot of your affiliate program's status.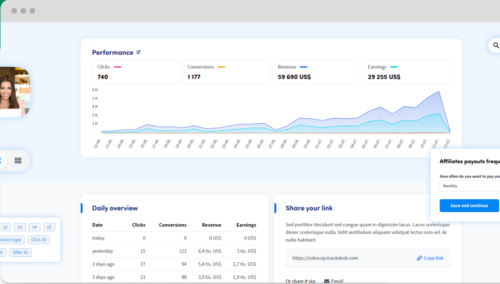 Promotion and Communication – Trackdesk makes communicating directly with affiliate partners easier.
Trackdesk – Best Ecommerce Solution
Intelligent Affiliate Marketing Software – All in one place, analyze, improve, and pay affiliates. Trackdesk makes managing your affiliate program simple and provides you with all the necessary tools.
Easy to Implement – Their platform integrates with your technology stack without requiring complex developer tools.
Splendid Customer Service – They are only a mouse click away from helping you. Your success is critical to the success of the platform.
Other Top Characteristics
Electronic commerce – You can vastly improve your company's affiliate marketing. You can track campaigns and manage partner payments from a single platform.
Brands and Advertisers – One can easily meet affiliate marketing needs and gain insights using this high-quality platform.
SaaS – Their adept platform is relevant for any size SaaS Company. Furthermore, you can manage your affiliate, referral, and partner programs all in one place.
Wrap Up
Brands cannot effectively assess the success and profitability of their affiliate campaigns and partnerships without reliable tracking and reporting tools. But with the help of Trackdesk Ecommerce affiliate tracking software, the brands can easily launch affiliate programs and track referrals and sales made by their affiliate partners.