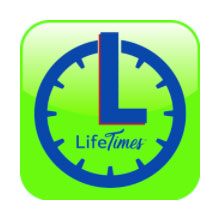 LifeTimes is a simple app that literally lets one track time. People have different ways of remembering special occasions from marking dates and times on a calendar to storing milestones in their phones and on social media pages. Yet no matter how "organized" people might think are, there seems to be the one inevitable event that gets overlooked if not completely forgotten.
Enter LifeTimes of Celebration, an app that keeps track of life down to the second. You can record anything that is meaningful to you such as birthdays, weddings, anniversaries, and reunions or celebrate a new friendship or relationship down to the second. Life Times also makes a great tool for busy professionals or those who need to use specific timelines in their work. Not only is this app very easy to use it is also incredibly versatile. It allows you to mark milestones and can serve as a literal record of your life.
This clever app will even automatically compensate for time zone differences. For the social media users events and achievements can be shared via Facebook with seamless integration. This is one of the most popular and utilized features of Life Times. Upon installation the app is very easy to get started with. A large plus sign is all you need to add new events, leading you to the next screen which lets the user pick and event type from milestones including birthdays, career goals, weight loss (a great thing to utilize Life Times for), wedding, pets, and even quit drinking/smoking. Users can elect to use a series of icons instead to depict the event.
Next you list the event name and description before moving on to enter the When and Where. The When being the date and time, Where giving you an option to enter the country and time zone. Options allows you to choose from a series of notifications leading up to the event. After hitting save, you are returned to the My Events screen and will see the milestones you have saved in the app. When you click on the event you see how many months, days, hours, minutes, and even seconds are left until the special day arrives.
The pros of this app are its ease of use and having a centralized place to store special events. The Facebook sharing is also a very attractive feature. The minimalistic interface of Life Times adds to the ease of use and creates a very streamlined appearance. The only con I can evaluate is that the actual list of events (not the icons) seems short for an app that is meant to record important moments in life. It would be nice to see more events added to this list to make Life Times even more personalized. Though the app does advertise Facebook sharing, I cannot find the option or Facebook icon that will let me do this. The developers need to make this feature very easy to use and find so users can take full advantage of sharing special occasions.
Overall the app delivers a good experience and is fun to use and making the Best Life Event Tracking App.
. Its simplicity would allow even a tech novice to enter events. Once more options are added to the occasions to choose from and the Facebook share feature is prominently placed, I think Life Times will be an ideal tool to store and celebrate the most cherished moments in our lives.
Appslisto - App Review
App Concept
App Feature Set
App User Experience
App Reuse Value
90
Celebrations
You can record anything that is meaningful to you such as birthdays, weddings, anniversaries, and reunions or celebrate a new friendship or relationship down to the second.

User Rating:

4.8 ( 1 votes)

90