Usually I love to do sketch drawing and it's my luck that I get one app name as Pencil Photo Sketch app. The app is all about creating a pencil sketch of your photos. This platform is providing an amazing platform to add sketch effect and it also enables a user to add artwork in your photo by yourself. Moreover, it is also the best way to share on social media's.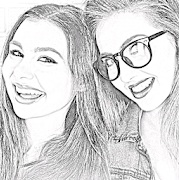 The app is having different effects like cartoon art effect, light sketch effect, color drawing effect, pencil sketch effect and Crayon Effect. It's a new way to add sketch and cartoon art effect. I am also telling you how you can use this app. Currently there are 13 kinds of sketch effects in this app and more will be added in the future. 
To use this app, you need to follow these steps
Select the picture from the photo gallery

Modify the picture if you wish to

Choose the effect for picture, drawing, crayon, pencil sketch effect you like

Apply the effect and save the picture or share it on social media
I must say the app is good enough to give the best way to get sketch images. I would also like to recommend this app at high level. All those who love art or want to add sketch effects in their images they must download Pencil Photo Sketch app. It's a good application from all points. If you like to have complete cartoon look than this app is having awesome cartoon filter effect.  You can also get your image looks like hand-drawn pencil drawing. You can also share your image on Instagram, Facebook Tumblr, Twitter etc. 
It's a good platform to say goodbye to dull pictures by adding some sketch features. I get really impressed by this app. At last, I would like to say a good job.  
Summary: Pencil Photo Sketch is a nice application. It's easy to use and user-friendly in getting sketch images.
Usability: 3.5

Accessibility: 3

Graphics: 4

Features: 4
Appslisto - App Review
App Concept
App Feature Set
App User Experience
App Reuse Value
90
Useful
Pencil Photo Sketch is a professional Sketching photo editor app to make you an artist by creating pencil sketch of your photos.

User Rating:

4.35 ( 1 votes)

90