All businesses and financial calculators usually experience difficulty in financial calculations due to a tricky part in the calculations. Even when you use spreadsheets the difficulty posed by the calculations are not any less. Some people need extra time to cope with the calculations while others need extra support to get to the point. As you move through your business you will face even more complex financial calculations which will require more time and effort. Sometimes the learning and thinking factors of the mind also affects the calculations. Developer have come up with a possible solution to this problem where you can easily calculate financial equations and sensitivity analysis by eradicating the need for unwanted spreadsheet calculations and financial calculators.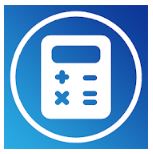 'On Equation Finance Calculator' is a mobile based app that gives you simplicity while going through your calculations while providing you with the right solutions.
Developed by:
'On Equation Finance Calculator' app was developed and offered by 'Aptlications' as a Finance application.
How the app works:
Download and launch the 'On Equation Finance Calculator' app on your mobile phone or other compatible devices. Now open the app on your device and start calculating the necessary functions like calculating Bonds, NPV, Interest and EAR. Whether you are an accountant or a finance specialist, a valued professional or a student, you will find the 'On Equation Finance Calculator' app useful in your day to day life. All the calculations that are necessary for the financial calculations for a business evaluation is found in this app and even if you find anything missing, you can inform the app developers.
Features of the app:
'On Equation Finance Calculator' has many alluring features such as,
Firm valuation formulas
Project valuation calculators
Time value of money formulas
Compatible with:
'On Equation Finance Calculator' works on all Android and iOS devices.


Finance Calculator
On Equation Finance Calculator
The On Equation Finance Calculator adds simplicity to complex financial valuation equations and sensitivity analysis by removing the need for spreadsheets or old school finance calculators. All formulas are preprogrammed, you just need to provide the values.